Alcohol Test – Alcohol Testing
Alcohol tests are easy to use and offer a low cost solution to alcohol testing. The abuse of alcohol is a serious problem in the United States and threatens the safety of workplaces and highways throughout the country. A variety of alcohol-testing methods are available, which make it possible for companies, among other organizations, to conduct testing under virtually any circumstance and within any budget.
Employee alcohol testing has been around for decades.  Workplace alcohol testing has been in common practice for 30-plus years. There are instant-result test providing fast results.
Drug testing grabs most of the headlines.  A drug-free workplace program that fails to address alcohol abuse may only be confronting half of the problem. We offer a wide selection of alcohol tests to fit your needs. Affordable alcohol test products like the AlcoScreen tests, Alcoscreen 02 DOT Test, QED A150 DOT Approved Test, and iScreen Breath Test make on-site alcohol testing easy.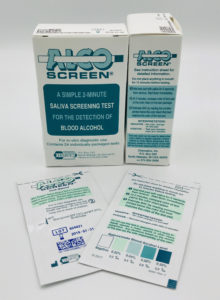 Alco-Screen Saliva Alcohol Test
FDA 510(k) cleared for home use
CLIA Waived
Manufactured in USA
Affordable
Easy to Administer
2 Minute Test Time
24 tests per box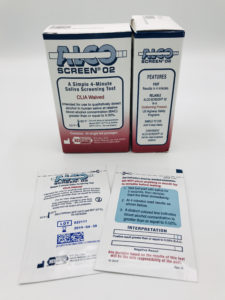 Alco-Screen 02 DOT Alcohol Test
Convenient – Use anywhere, anytime
Quick 4 minute alcohol test results
DOT approved alcohol screening test
FDA Cleared
CLIA Waived
Over the counter use
24 tests per box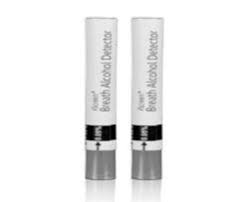 iScreen Breath Alcohol Detecton
Portable and only four simple steps to complete
Available in .02, .05, and .08 gm/dL cutoff levels
Results in four minutes
FDA 510(k) Cleared
For in vitro diagnostic use only
Qty 25 tests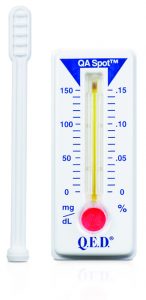 QED A150 Saliva DOT Approved Test
Reads like a thermometer
Results in 2-5 minutes
CLIA-waived
DOT-approved
Sold in Boxes of 10 Tests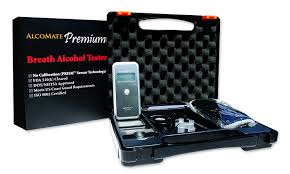 AlcoMate Premium AL7000F Breathalyzer Kit
 Simple 1-button operation
No calibration service required
DOT-approved
FDA 510(k) Cleared. This device is for screening purposes only and should be used as a monitoring