iScreen Dip Drug Test Kits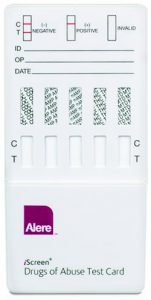 The iScreen Drug Test Kit are available in quantities of 25 urine drug tests per box. Each urine drug test kit comes with the urine specimen collection cup with the temperature strip affixed and a 2-part urine drug test results forms.
Detects 1 – 12 Drugs
Laboratory Accurate
On Board Adulteration Available
Photocopy Results
Rapidly screen for a broad range of illicit and prescription drugs.
FDA 510(k) Cleared.
1-12 configurations available for a fully customizable urine testing program.
Simple procedure: collect, dip and read—results in as little as 4-7 minutes.
Specimen validity test options available in the Dip Card with A.D.
Test device remains in control of administrator.
Instructions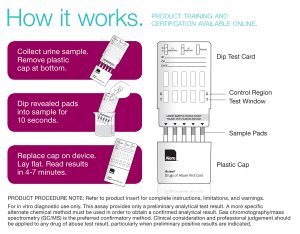 iScreen Cut off Levels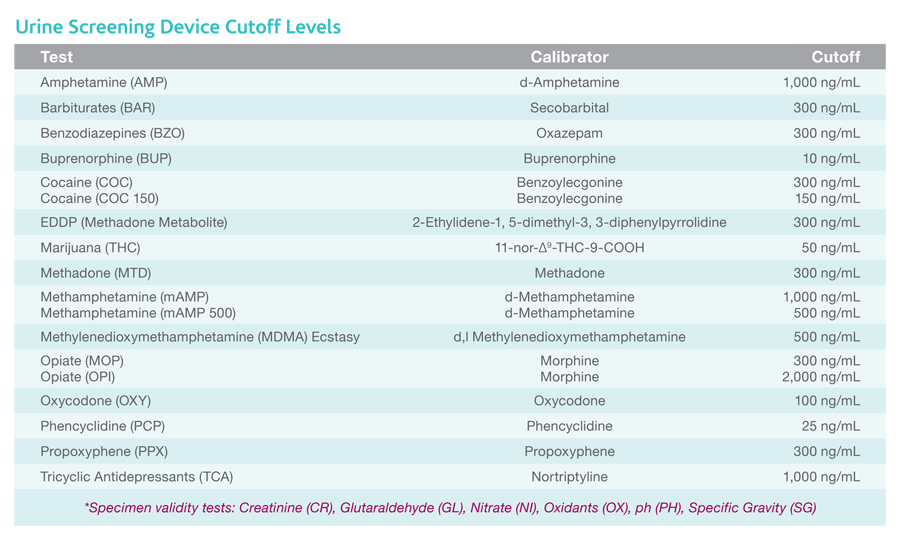 iScreen Multipanel Drug Test Cards
2 Panel
IS2 CT DIP   (2 Panel: COC, THC)
IS2 MT DIP   (2 Panel: mAMP, THC)
3 Panel
IS3 MCT DIP   (3 Panel: COC, mAMP, THC)
IS3 OCT DIP   (3 Panel: COC, OPI, THC)
4 Panel
IS4 A DIP   (4 Panel: AMP, COC, OPI, THC)
IS4 M DIP   (4 Panel: COC, mAMP, OPI, THC)
DOA-544    (4 Panel: BZO, COC, MTD, OPI)
5 Panel
IS5 MP DIP   (5 Panel: COC, THC, OPI, mAMP, PCP)
IS5 A DIP   (5 Panel: AMP, COC, OPI, PCP, THC)
IS5 M DIP   (5 Panel: AMP, COC, mAMP, OPI, THC)
IS5 MB DIP   (5 Panel: BZO, COC, mAMP, MOP, THC)
DOA-454   (5 Panel: AMP, COC, mAMP, MOP, THC)
DOA-754   (5 Panel: AMP, BZO, COC, OPI, THC)
DOA-1554   (5 Panel: COC, mAMP, MDMA, OPI, THC)
6 Panel
DOA-1364  (6 Panel: AMP, COC, mAMP, MDMA, OPI, THC)
DOA-164-551   (6 Panel: AMP, COC, mAMP, OPI, OXY, THC)
I-DOA-364-OBC   (6 Panel: AMP, BZO, COC, MTD, OPI, THC)
IS6 B DIP   (6 Panel: AMP, BZO, COC, mAMP, OPI, THC)
IS6 MAP DIP   (6 Panel: AMP, COC, mAMP, OPI, PCP, THC)
8 Panel
IS8 DIP   (8 Panel: AMP, BAR, BZO, COC, mAMP, OPI, PCP, THC)
DOA-184-271T-0B   (8 Panel: AMP300, COC150, mAMP500, MOP, OXY, PCP, PPX, THC)
9 Panel
IS9 DIP   (9 Panel: AMP, BAR, BZO, COC, mAMP, MTD, OPI, PCP, THC)
I-DOA-194-191   (9 Panel: AMP, BZO, COC, mAMP, MOP, MTD, OXY, PPX, THC)
10 Panel
IS10 DIP   (10 Panel: AMP, BAR, BZO, COC, mAMP, MTD, OPI, PCP, TCA, THC)
DOA-2104   (10 Panel: AMP, BAR, BZO, COC, mAMP, MOP, MTD, PCP, TCA, THC)
DOA-1104-531  (10 Panel: AMP, BAR, BZO, BUP, COC, mAMP, MOP, MTD, OXY, THC)
DOA-3104    (10 Panel: AMP, BAR, BZO, COC, mAMP, MDMA, MTD, OPI, PCP, THC)
12 Panel
DOA-1124-011T-O   (12 Panel: AMP, BAR, BZO, COC, mAMP, MDMA, MTD, OPI, OXY, PCP, PPX, THC)
DOA-1124-081   (12 Panel: AMP, BAR, BZO, BUP, COC, mAMP, MDMA, MOP, MTD, OXY, PCP, THC)
Multipanel Drugs of Abuse Test Cards with SVT
5 Panel
DUD-154-201   (5 Panel + SVT: AMP, COC, mAMP, OPI, THC (CR, GL, NI, OX, PH, SG)
6 Panel
DUD-164-141   (6 Panel + SVT: AMP, BZO, COC, mAMP, OPI, THC (CR, GL, NI, OX, PH, SG)
10 Panel
DUD-1104-051   (10 Panel + SVT: AMP, BAR, BZO, COC, mAMP, MTD, OPI, PCP, TCA, THC (CR, GL, NI, OX, PH, SG)
Product Information