Dip Drug Test & Cassettes
Dip drug test cards and cassettes drug tests are a low cost solution for your drug testing program.
iScreen Dip Drug Test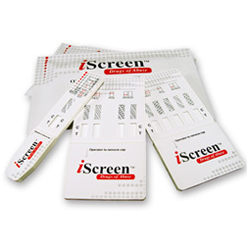 iScreen dip drug test cards are available in quantities of 25 per box. Each test comes with a specimen collection cup and a two-part drug test results forms.
Features & Benefits
Detects 1 – 12 Drugs

Laboratory Accurate

On Board Adulteration Available

Photocopy Results
Product Information
QuickTox Drug Screen Dip Card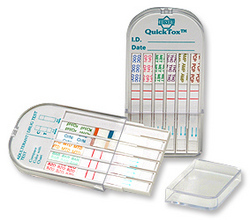 Sold in Boxes of 25 Test. Includes Specimen Collection Cups. Includes 25 Two-Part Drug Test Results Form. GC/MS Confirmation is available.
Features & Benefits
9 & 11 panel tests available

Simple procedure: collect, dip, and read results at 5 minutes

510(k) cleared to market

Administrator remains in control of test device
Product Information
iCassette Drug Test Kit
The iCassette drug test is a pipette style drug test that is used by transferring the specimen from the collection container to the device by the use of a liquid transfer pipette (eye dropper). The results are ready in 60 seconds. Results can be copied or recorded using our 2-part results form. Sold in boxes of 25 tests. Includes a specimen collection cup with temperature strip.
Features & Benefits
Laboratory Accurate
Easy to Use
Fast Results
510K Cleared
Cost Effective
Product Information