QuickTox Drug Test Dip Card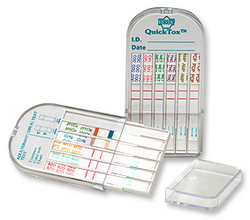 QuickTox Drug Test Dip Cards are a affordable CLIA Waived Drug Screen Solution. Equip yourself with dependable drug screening results. The test device you select should be from an innovative and experienced leader. We can say with confidence that our high-quality QuickTox® Drug Test Dip Card enables you to easily administer and evaluate  on-site drug tests.
For expanded features, try the QuickTox with a specimen validity test.
Features and Benefits
Test in 3 Easy Steps

 9 & 11 drug test panel configurations available for a
customized urine testing program
Simple procedure: collect, dip, and
read results at 5 minutes

FDA Approved 510(k) cleared Dip Drug Test Card

Administrator remains in control of test device
Tests are sold in Boxes of 25
Includes Specimen Collection Cups
Includes 25 Two-Part Drug Test results form
GC/MS Confirmation is available. Contact customer service
Free UPS ground shipping
8 Panel Quicktox QT44 : AMP1000, BAR300, BZO300, COC300, MAMP500, OPI300, OXY100, THC50
9 Panel QuickTox QT52 : AMP1000, BAR300, BZO300, COC300, MAMP500, MTD300, OPI300, OXY100, THC50
11 Panel QuickTox QT70 : AMP1000, BAR300, BZO300, COC300, MAMP500, MDMA500, MTD300, OPI300, OXY100, PCP25, THC50
12 Panel QuickTox QT80F : AMP1000, BAR300, BZO300, COC300, MAMP500, MDMA500, MTD300, OPI300, PCP25, OXY100, TCA1000, THC50
12 Panel QuickTox QT88 : AMP1000, BAR300, BUP10, BZO300, COC300, MAMP500, MDMA500, MTD300, OPI300, OXY100, PCP25, THC50
QuickTox Drug Screen Dip Card With Adulteration
9 Panel QuickTox QT52A + SVT: THC50, COC300, OPI300, MAMP500, AMP1000, BZO300, BAR300, MTD300, OXY100 (CR, OX, PH, NI)
11 Panel Quicktox QT70A + SVT: AMP1000, BAR300, BZO300, COC300, MDMA500, MAMP500, MTD300, OPI300, OXY100, PCP25, THC50 (BL, CR, GL, NI, OX, PCC, PH, SG)