UScreen K2, Spice, Tramadol, and Fentanyl Drug Test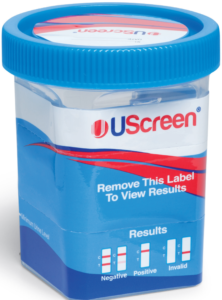 -Screens for a wide range of drugs: AMP, BAR,
BUP, BZO, COC, FTY, K2, MDMA, MET, MTD,
OPI, OXY, THC, TRA
-Simple to use, no need to tilt cup to activate
test—read results in five minutes
-Self-contained cup is ideal for sending preliminary
positive specimens to the lab for confirmation
-Includes specimen validity test (SVT) and temperature
strip—helps to monitor specimen tampering
The UScreen Cup offers fast and convenient detection for multiple drug assays in urine, and is
intended for employment and insurance testing. Numerous drug configurations are available to
address the challenges with workplace substance abuse. New tests help you target: misuse of
prescribed Fentanyl as well as illicit use, abuse of "K2/Spice" (JHW-073 and JWH-018 synthetic
cannabinoids), and emerging concerns with Tramadol abuse.
USSCupA-10FEN 10 Panel: AMP, BUP, COC, FTY, K2, MET, OPI2000, OXY, THC, TRA (CR, PH, OX)
USSCupA-10K2 10 Panel: AMP, BAR, BUP, BZO, COC, K2, MET, OPI2000, OXY, THC (CR, PH, OX)
USSCupA-13FEN 13 Panel: AMP, BAR, BUP, BZO, COC, FTY, MET, MDMA, MOP300, MTD, OXY, THC, TRA (CR, PH, OX)